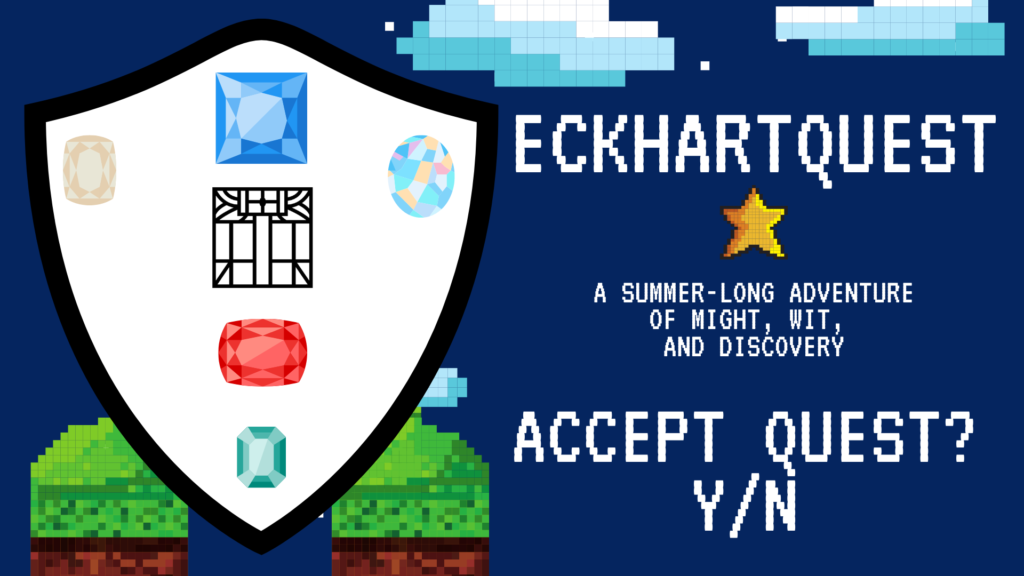 The adventurous minds of Eckhart Public Library bring you EckhartQuest: a fantasy-themed scavenger hunt throughout Union Township! Can you find all five elements hidden in our domain? Using a map, your curiosity, hints and riddles hidden in books, and your iron will, you will seek Sapphire, Ruby, Emerald, Pearl, and Opal elements. What green groves, watery realms, shadowed haunts, or stoic plazas might you discover along the way?
A list of instruction, your special badge, and a handy map can be found at any public service desk or at epl.lib.in.us/eckhartquest
Best of all, you'll be rewarded along the way for each step you take! Finding a new element allows you to enter in for one grand prize for Eckhart Public Library's Read. Do. Explore program. If you're able to find all 5 elements and bring in your completed badge to the library, you'll be allowed to enter 10 more prize entries. And for our most savvy adventurers, the very first quest undertaker to bring in a completed badge gets 20 prize entries! 
EckhartQuest brings together community partners to challenge your determination, knowledge, exploration, and skill!
Ready to accept your quest? Stop by the Eckhart Temple (Public Library) or visit epl.lib.in.us/eckhartquest to begin!