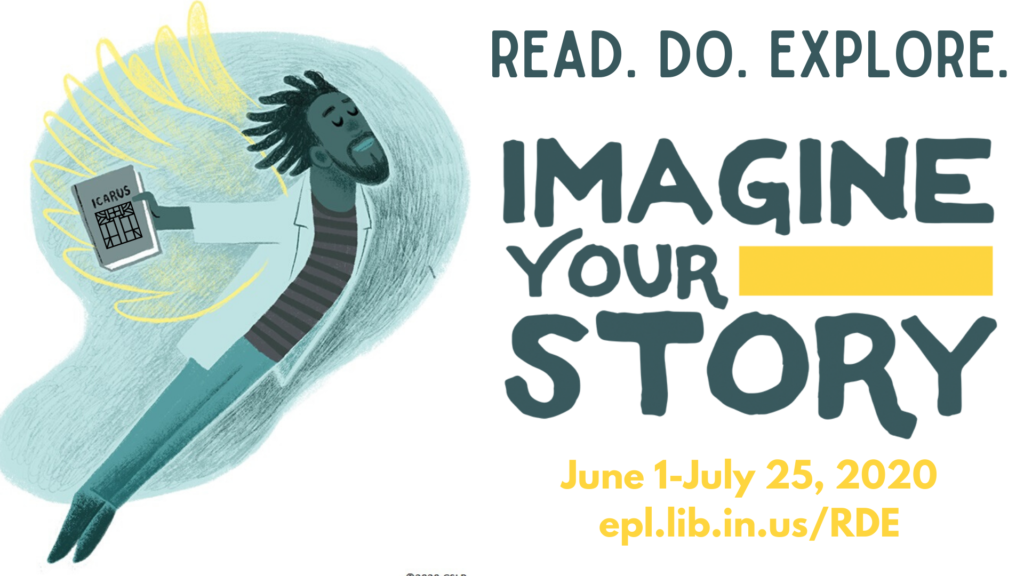 Eckhart Public Library is proud to announce the beginning of our Read. Do. Explore summer programming, called Imagine Your Story! This 8-week program will be full of fun programs, chances to win amazing prizes, and finally enjoying our Main Library once again. Read. Do. Explore is open to all ages, and a library card is not required to participate in the summer fun!
In years past, the library has kept busy by hosting a large variety of programs, including over 100 programs during last summer. However, to keep patrons and staff safe and healthy, Eckhart Public Library will be approaching this summer in a virtual way. Almost all programs for Imagine Your Story will take place through the library's Facebook Page, through virtual Zoom meetings, or by submitting drawings or art online. Some of these programs will include usual favorites like Babies & Books, Family Storytime, and STEAM for Kids and Teens, as well as some new adventurous events like EckhartQuest, a fun hunt around Union Township all summer long. A full list of events can be found on the Read. Do. Explore website, epl.lib.in.us/rde, or a copy of the virtual booklet can be printed on-demand at any Eckhart Public Library Public Service Desk. Please note that all summer programming is subject to change based on circumstances, and we will do our best to make changes and inform the public as quickly as possible on our social media accounts. If you need assistance or information on a program, please call the library at (260) 925-2414 ext. 120.
Each summer, Eckhart Public Library also allows participants to enter in for chances at awesome grand prizes. This year, you can earn chances to win grand prizes by doing any of the following: fulfilling a personal reading goal; fulfilling a personal research goal; doing a random act of kindness or helpfulness; each time you attend a library program; and through each item you check out digitally through any streaming app. Participants can enter for prizes as often as they fulfill goals. In order to help those who may be going through a difficult time, some of our prizes are aimed at assisting our community, with some fun and exciting prizes as well. These prizes include: a Kindle Fire tablet; LEGO & DUPLO sets; Outdoor Fun Set; Eat Around Auburn Prize Pack; Drink Around Auburn Prize Pack; a $50 Gas Card; a Grocery Gift Card to Fresh Food Hub; a Walmart Gift Card; and A Day Out in Auburn Prize Pack. All prizes are open for any age to enter for, and the entry form can be found at epl.lib.in.us/rde. For patrons who would prefer not to use the internet to participate, a paper option will be available at Public Service Desks very soon, and patrons can call (260) 925-2414 ext. 508 and leave a message with their name, phone number, goal fulfilled, and prize they would like to enter in for.
Lastly, weekly prize books will still be available to all participants of Read. Do. Explore, but we are exploring ways to share a form of prize books to avoid necessary sanitization and cleaning of all prize books daily. We ask for your patience as we figure out this system in the coming weeks.
We hope you are as excited about this summer as we are! As always, if you have any questions about Read. Do. Explore or anything else, please contact us at (260) 925-2414 ext. 120 or by email at info@epl.lib.in.us