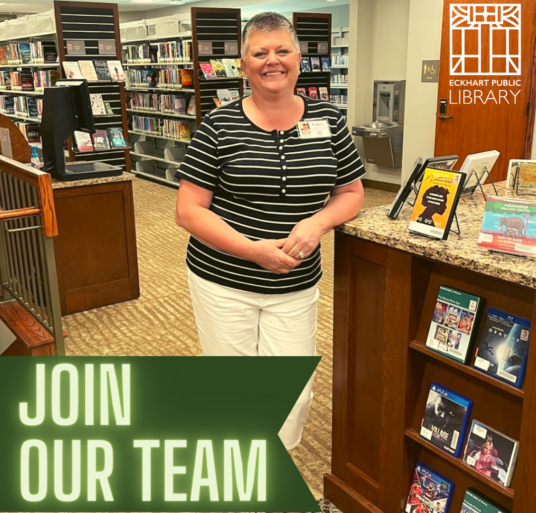 Eckhart Public Library is excited to accept applications for the positions listed below.
Eckhart Public Library is also always seeking new volunteers!
Executive Director
Eckhart Public Library seeks an innovative Executive Director with vision and initiative to
replace a much admired leader who has served since 1992.
Our new Executive Director will lead us in future library trends and facilitate our evolving role
within the Auburn and DeKalb County community to provide access, creativity, and discovery at
all stages of life.
The ideal candidate is an effective, flexible leader with strong people and communication skills
to provide leadership and administrative management that ensures excellent customer service
and library access to all individuals within the library's service area. Eckhart has been very
successful in building a library campus by developing meaningful relationships with community
members, businesses, and organizations that contribute to the advancement of the library in
achieving its mission.
The Executive Director will be expected to maintain and cultivate these long lasting
partnerships and continue the Library's fund raising and development efforts. Key initiatives
includes implementing a new strategic plan; developing strong positive relationships with
community members, library users, stakeholders, and staff that fosters trust, integrity, respect
and teamwork; and establishing progressive and inclusive library programs and services.
Eckhart Public Library is ideally located in the charming city of Auburn located in Northeastern
Indiana. Proudly known as the "Home of the Classics," Auburn celebrates it rich cultural history
dating back to the early 1900s automobile industry. Auburn is also a city prided on progress
with a keen focus towards the business, art and cultural, educational, and economic
opportunities of the future for every resident.
Eckhart Library is proud to serve 13,665 community members in partnership with our dedicated
board of trustees and staff. The adopted 2022 annual operating budget is just over $1.5 million.
Eckhart is one of four public libraries located within DeKalb County, Indiana.
To apply for the Executive Director position email your resume, cover letter, and references to dirsearch@epl.lib.in.us.
Janitorial Specialist
The Janitorial Specialist ensures that Eckhart Public Library patrons and staff have access to clean and orderly buildings across the Eckhart Public Library campus. To apply, send your references, a cover letter and resume to Janelle Graber at jhgraber@epl.lib.in.us
Maintenance Specialist
The Maintenance Specialist ensures that Library users have access to clean, well maintained, safe, and secure
buildings and grounds. To apply, send your references, a cover letter and resume to Janelle Graber at jhgraber@epl.lib.in.us
Internships
Eckhart Public Library welcomes internship opportunities. Those interested in interning at the library can inquire by contacting Janelle Graber.