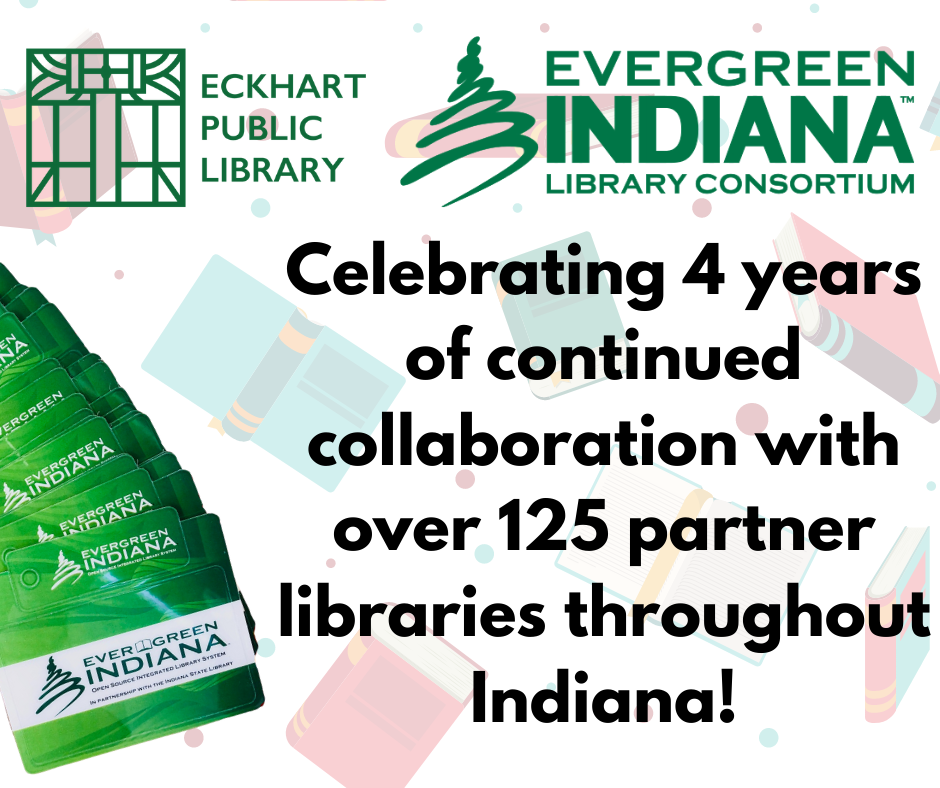 Saturday, August 1, marks an important anniversary for the Eckhart Public Library staff and patrons – the 4 year anniversary of the library's launch with the Evergreen Indiana Consortium, made up of over 125 other Indiana public libraries, school libraries, and more. 
Started by a group of 20 collaborating libraries in 2007, Evergreen Indiana's goal was to create an open-source library system that allowed members to share items, resources, and systems with one another. In the years that have followed, Eckhart Public Library patrons have participated in receiving just some of the consortium's 7 million items, which includes items such as books across various ages ranges and formats, to new items in our Library of Things, such as cake pans and label makers.
During these times, Eckhart Public Library has been expanding curbside and home delivery services for patrons who feel more comfortable staying in their car or home – let us bring the benefits of Evergreen Indiana to you! If you are interested in receiving items this way, please visit the library's website at epl.lib.in.us, and choose either curbside pick-up or home delivery on our home page for more information.
If you ever happen to be near another DeKalb County library, feel free to stop in – your Evergreen Indiana card works at all county libraries in the area.
Our library is so proud to have this wonderful system in place for our community and with our Evergreen Indiana partner libraries throughout the state. We hope to continue this wonderful partnership for years to come!