Eckhart Mobile Outreach Service (EMOS) Deliveries is part of a flexible program capable of responding to the needs and improving the lives of its patrons. Deliveries are a free service provided by library staff and volunteers to people within DeKalb County.
Individuals
Individuals in the library service area who would like to receive and return their items via home delivery. Staff can either place items on hold for individuals or individuals can place their holds themselves.
Educators & Child Care Providers
Individuals in the library service area who are educators or child care providers and cannot conveniently access the library to provide age-appropriate library materials for their clients. If a Child Care provider meets the criteria for Homebound Patrons and wants library materials for personal use, he or she must receive those materials separately from the Child Care Delivery.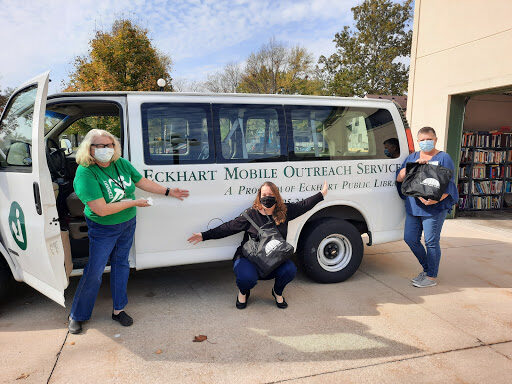 If you are unable to apply online you can also contact us by phone or email:
260-925-2414 ext. 222
emos@epl.lib.in.us
You will be asked to fill out a short survey about what kinds of materials you would like to receive from Eckhart Public Library. This form can be printed, filled out in its entirety, and given to the driver.
It can also be mailed to:
EMOS
% Eckhart Public Library
603 S Jackson St.
Auburn, IN 46706
You will then set up your delivery date, and a library staff member will begin selecting books for you. Within two weeks, you'll receive your first delivery!