Review by Jenny Kobiela-Mondor, Assistant Director
Animation styles can sometimes make or break a movie. 
In "The Secret of Kells," the gorgeous, stylized animation is one of the things that transforms a simple story into a magical masterpiece.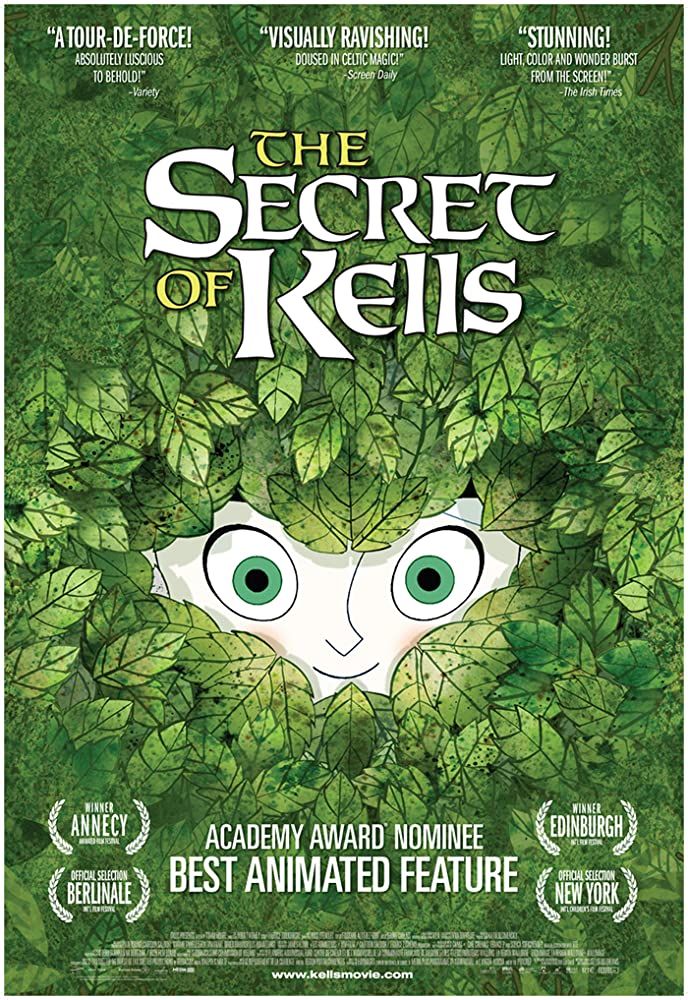 The Academy Award-nominated "The Secret of Kells," available now on Kanopy with your library card, follows the story of Brendan (voiced by Evan McGuire), who lives in an abbey with his uncle, Abbot Cellach (Brendan Gleeson), and the other monks. Brendan and his uncle are at odds, with Brendan more interested in working with a new monk, Brother Aidan (Mick Lally), on an illuminated manuscript than helping to build a wall against Viking invaders. Along the way, Brendan gets help from Aidan's cat, Pangur Ban, and a fairy named Aisling (Christen Mooney).
"The Secret of Kells" is based on the legends surrounding the famed Book of Kells, and the animators do a masterful job of using art inspired by the Book of Kells and Celtic art. The result is a striking, stylized animation style that had my eyes glued to the screen for the entire movie. "The Secret of Kells" is one of the movies that proves that animation is a true art form. It works so well, in part, because the story fits the animation style so well. 
Director Tomm Moore was inspired, in part, by the films of Hayao Miyazaki, who creates beautiful animated movies in a Japanese style and steeped in Japanese mythology. Moore took the art and mythology of his home in Ireland to make "The Secret of Kells," and his passion for his home is apparent in the details of this gorgeous little film. 
The story, though relatively simple, is well-written, and both exciting and scary in turn. The story of "The Secret of Kells" feels much like a classic fairy tale movie, complete with magic and monsters. There are some intense parts, particularly some of the strange magic in the Aisling's forest and when the highly stylized, monstrous Vikings appear, that might be scary for some younger viewers, but the wonderful story makes a little bit of fear worth it – particularly because the story ends on a positive note. 
"The Secret of Kells" is a real treat. The film didn't get a lot of mainstream attention in the U.S. when it came out, even though it was nominated for Best Animated Feature (it lost to Disney/Pixar's "Up"). However, it's well worth checking out now.